The ethos at Aycliffe Drive is one of care and consideration for others.  It is expected that pupils will keep the class and school rules.  The staff encourage the development of qualities and values such as responsibility and an increased understanding of right and wrong.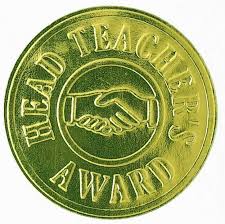 Staff respond very promptly to allegations of bullying or racial discrimination.  The school's behaviour policy sets out clear guidelines on how to proceed in such situations. Unacceptable behaviour is dealt with appropriately by staff. This may include loss of privileges such as lunchtime. Parents/carers are involved in discussion and the handling of persistent bad behaviour.
Good behaviour is rewarded by a system of coloured dots called House Points . These dots can be issued by any member of staff at Aycliffe Drive for hard work, kindness, helpfulness and general good behaviour. When ten dots have been awarded pupils receive bronze, silver and gold certificates during school assembly.  Pupils who reach the gold level become eligible for a gold wrist band.  All Year 6 pupils are expected to carry out a monitor duty in a responsible manner.  Some duties include caring for Foundation Reception pupils during lunchtime, running clubs and keeping the school tidy and litter free.
As a school we like to refresh our reward system every few years to keep it interesting and exciting for the children. As a result of lots of discussions, we have decided on the following changes.
A postcard from the Headteacher will be sent to the homes of pupils who have achieved something outstanding (this could be academic or behavioural) to acknowledge their accomplishment. The postcard will detail their exact success. These will only be sent out in exceptional circumstances and will be accompanied by a gold Headteacher Award sticker. As part of this, there will be a special treat for the children who receive a postcard at the end of each term e.g. tea party.
As mentioned, gold Headteacher Awards will only be given out with a postcard, therefore other achievement stickers will be rewarded to the children for good work, e.g. homework awards, excellent award stickers or gold stars for timetables.
Star of the Week will cease to exist. In its place there will be a black and silver 'Outstanding Award' shield badge. These shields will be allocated to pupils in each class who excel in already decided categories. These categories will include presentation, science, maths, writing, resilience, positive attitude and supporting each other but there will be other categories identified over the year. The whole school will work on the same category for up to two weeks and the badge will be awarded during a Friday assembly.  Photographs of these children will be displayed in the lobby and the dining room. The child will keep the badge until the next category is awarded.
If pupils misbehave they will:
 miss a playtime
 miss an enjoyable activity
 be sent to see Mrs Green or a senior member of staff.
 have a daily behaviour record kept by the school staff
 have to take a letter home to their parents
 be excluded from school
Children please do not forget that the midday supervisors and teaching assistants are on the playground and in the dining room to look after your safety and to help you if you are hurt or in trouble. Please be polite to them at all times.  The year 5 and 6 leaders will also be there to help children with minor problems at playtimes.