School Lunches
A cooked lunch or school packed lunch is available, prepared in our own kitchen, and we would certainly recommend that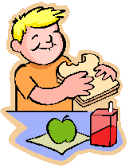 your child take advantage of this facility.  The children are offered good quality food which they will enjoy and which also reflects the national healthy eating agenda for the future.  All menus are nutritionally analysed and colour coded, to help children make balanced meal choices.  Care is taken to provide a choice each day to cater for all diets and tastes. We run a Pupil Choice system which means that children are able to choose their lunch in advance. The current price for school meals is £2.30/day.  It is possible to pay weekly, half-termly or termly by cash or cheque (payable to Hertfordshire Catering Limited).  Parents/ carers who think that they may be eligible for free meals should visit the Herts Direct website.
Dinner money is collected and counted in the office on the first working day of the week.  It is therefore important to hand it in on time.  Please put the money in an envelope with the child's name and form and the amount you are paying.
Some parents/carers prefer their child to bring a packed lunch.   Please note that we promote healthy eating – chocolate bars and fizzy drinks are not permitted in lunch boxes.
PLEASE NOTE – we are a nut free school. This means no children are allowed to bring any kind of nuts into school, including nut spreads, e.g. nutella, etc.
Autumn 2019 – Spring 2020 Menu – Please contact the school office for more information.